| | |
| --- | --- |
| Posted by P4PO on May 30, 2018 at 9:55 PM | |
Money for Nothing
It seems like not a day or two goes by without someone, somewhere trying to take over the dogs in Tina Fay's case.
Last week we wrote this blog about someone placing the dogs and no sooner does the drama die down there but we learn about Melissa Horn, a Siamese Cat breeder from Pennsylvania (sorry not the Swedish pop star) who is working with "Someone" to place Tina's dogs. Now everyone wants to see the dogs in good homes, but I want to see who is going to argue in front of a judge (the person who actually gets to make the decision) that a cat breeder is the most qualified to find appropriate homes for giant breed dogs.
Melissa first posted in April of 2018, which, coincidentally is when the warehouse the dogs are in was listed as being for lease.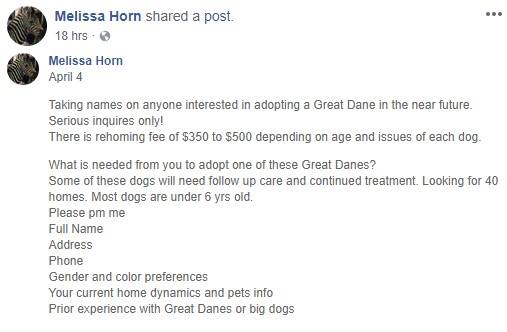 Yesterday a new post started making the rounds which made all of us at P4PO raise our eyebrows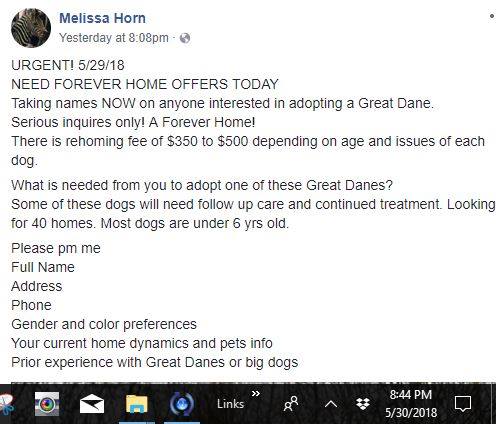 People made inquiries via Facebook and when they asked questions were met with thinly veiled hostility as well as Vaguebooking of an epic nature.
Phone calls to Melissa were treated the same way as PM's; shady, sketchy and just plain weird.
It seems that a lot of people are trying to take advantage of this situation because they see it as a way to make some easy money. Shame on all of you who are doing this and care more about money. $500 a pop for some facebook posts seems like good money to me.
Please note: NO ONE has any authority to move or place these dogs until the court makes a decision on June 14th. The "helpers" as they refer to themselves as, appear to be nothing more than opportunists - con artists that show up at funerals like ghouls and take advantage of the family members. Guess what - no one has died and TINA has not given authority to ANYONE to do anything with the dogs.
SO-- if anyone else comes forward with an offer to do anything with these dogs , please do not share-- do not engage -- do not pay $500. Know that it is fake news so to speak--- and we all know what we think of those that spread it.